Read our list of good reasons why you should deal with us, whether buying or selling !
Since 1977 our auctions have been public sales with live room bidding, open viewing for the week preceding, and so on. The Coronavirus situation has changed all that, and we have converted to running our auctions online through the EasyLive Auction platform.


IMPORTANT NOTICE
We are now working towards retirement.
Our November 2021 auction is now full, and we already have some vendor material for the next auction (possibly February 2022).
We are not accepting any further material from vendors, as the available space in our auctions will be fully taken up in selling our shop stocks.



Send us an email if you'd like to be informed when future auctions are coming up.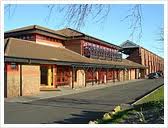 The previous stamp auction venue