Read our list of good reasons why you should deal with us, whether buying or selling !
Since 1977 our auctions have been public sales with live room bidding, open viewing for the week preceding, and so on. The Coronavirus situation has changed all that, and we have converted to running our auctions online through the EasyLive Auction platform.
We have plans two forthcoming sales, one Monday after the other;
First a live auction on 15 March 2021, starting at 5:00pm. You can leave bids in advance, or you can bid live while the sale is in progress. Please follow the links to read the various notes and instructions, and to see the catalogue.
Then, finishing on 22 March 2021 we have our first online timed auction, with over a thousand lots. You can leave bids at any time, and bidding ends on the first lot at 1:00pm, then the next lot closes thirty seconds later, and another thirty seconds after that, finishing the whole thing about 9:30pm. Again, follow links to listings and instructions.
All lots are illustrated - that's in excess of 3,000 images !
Send us an email if you'd like to be informed when future auctions are coming up.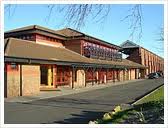 The previous stamp auction venue