Robert Murray Stamp Shop,
Edinburgh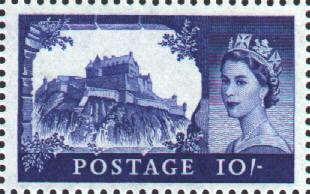 Scotland's best-stocked and most popular stamp shop
Thank you for visiting our website.
Robert Murray Stamp Shop is Scotland's best-stocked and most popular shop for stamp collectors, with hundreds of thousands of items of stock always available. Independent, hard-working, and interested, we hope we can help you.
Our shop was established in 1977, and has been operating at the same address and under the same ownership and management continuously since then.

There are many pages to our site, and it may take you a while to find your way around - our links and our Contents Page should help you out. But please remember that what is listed on our website is only a small section of what you can find in our shop.


Some of our most popular mail order lines are shown and described on one page for your convenience.



If you want some information about our Stamp Shop we hope the information here is helpful, but we are willing to answer any other questions you may have.
As Stamp Dealers we buy and sell stamps, collections, covers, and so on, as well as dealing in postcards, cigarette cards, coins, medals, and banknotes, and all types of collectors' supplies.
We run regular public auctions, and carry out valuations for all purposes. You can see our latest Auction Catalogue - we have a new one every few weeks.
Many of the products we deal in are available to buy through this website - please explore !
---
Click here to see our full Stamp Shop Web Site Contents Page
On other pages;
Basic information about our shop (location, opening times, stocks, and so on).
United Kingdom Commemoratives price list .
Background to our auctions .
Details of our services as valuers .
Information about stamp and postcard clubs in the Edinburgh area.
Details of how to order from us. Buy stamps online !
A list of some of our own favourite hyperlinks .
Our policies on returns, complaints, privacy, security, etc.



Summer Opening Hours
We have no present plans to be closed over the summer, so will be open right through our normal hours.

Modern UK Rarity to be Sold in our August Auction
This is the UK 1980 Sports stamp with the missing gold head, and is only the third example to be discovered. It will have an estimate of £10,000 and will be up for sale on 24 August. It's a great example to show that there are still "finds" to be made ! The full auction catalogue is available online at this link. More information is on our shop Facebook page.


Specialised Book Auction added to our Auction Schedule
We are delighted to have been instructed by Malcolm Cant, the author (now retired) of numerous respected works on Edinburgh, to sell his reference library. Well over a thousand books, almost all on Edinburgh subjects, and including many scarce volumes, will be offered for sale by auction on Monday 7 September 2015. The catalogue is available online at this link.




Priced Album Pages
We reckon we've now got something like twenty-five thousand priced album pages in our shop. They are not something we can list, nor are they suitable for mail order, but we're always hoping we can tempt people into making the effort to come in to our shop. So - we've chosen a representative sixty pages, scanned them, and uploaded them onto our shop's Facebook page. You can see them without having to be a member of Facebook.



Forth Road Bridge 1964-2014 50th Anniversary Souvenir Pack
We've produced a special pack for the Bridge's Fiftieth Birthday, using original 1964 stamps, the black card and clear cover from 1970s/80s packs, but with a completely new descriptive wrapper, using photographs taken on the actual anniversary day (4 September 2014). These are available in our shop at £5 each.



Stamp Auctions


Our auctions are held every few weeks. Auction dates in 2015 are provisionally 2 February, 30 March, 8 June, 24 August, 12 October, and 23 November. General auction information here.

Book Auction
We are delighted to have been given the job of selling Malcolm Cant's library of Edinburgh books (approx. 1,000 volumes). This will form a special sale, to be held on Monday 7 September 2015. Full details in due course.

The Shop now has a wider online presence on Facebook, Google+, and at LinkedIn. Please feel free to "like" or "connect" as appropriate in order to keep up with some of the snippets and comments that might not appear here.



Gift Vouchers


We can provide gift vouchers for any value £5 upwards, and which can be spent on any purchases from our shop. We're even happy for people to spend their voucher in stages. These can be supplied by post.

UK NEW ISSUES
We made a policy decision to stop handling new UK stamp issues as a matter of course. (We do however continue to handle them on the secondary market.) For further information please follow this link.Also see Robert Murray's major article (published in

The Philatelic Exporter

) on the subject of the British Post Office's stamp issuing policy, and how this might effect the stamp business. Follow this link.





YOUR COMMENTS ARE WELCOME
Tell us what you want to see on our site, and we will certainly consider it ! (No promises though.)
REMEMBER TO BOOKMARK THIS SITE IF YOU LIKE IT !
---
Last updated Friday 14 August 2015.

There are pages on this site with information about Great Britain Stamps, Robert Murray's Philatelic Bureau, Isle of Man stamps, Jersey stamps, kiloware,stamp albums and accessories, philatelic literature and stamp catalogues, modern sets of Aland Islands, Faroe Islands, Greenland,Iceland, and Norway. Within the United Kingdom listings are sections for Scottish Airletters, non-commemorative presentation packs,year books, year sets,pictorial booklets, and ofprestige booklets. The supplies page will give information about the products of Stanley Gibbons, Hagner, Prinz, Hawid, Showgard, Davo, Lighthouse, Compass, Cosmic, Royal Mail, Barrington, Prangnell, Rapkin, Godden, Benham, and Safe, as well as general information about watermark detectors and ultra-violet lamps. Beatles Stamps.Robert Burns stamps. Stamp albums for children, and starter packs.
Pages are here about our stamp auctions, our stamp shop itself, valuation service, direction maps, stamps for charity, coin shop banknotes and medals, Edinburgh Walking Tours and Edinburgh Running Tours, and much more.
Explore the site - or see our general CONTENTS PAGE.

This website and its content is copyright of Robert Murray - © Robert Murray 2015 (and earlier years). All rights reserved.
Any redistribution or reproduction of part or all of the contents in any form is prohibited other than the following:
** you may print or download to a local hard disk extracts for your personal and non-commercial use only
** you may copy the content to individual third parties for their personal use, but only if you acknowledge the website as the source of the material
You may not, except with our express written permission, distribute or commercially exploit the content. Nor may you transmit it or store it in any other website or other form of electronic retrieval system.
This applies to all websites under our administration.