| | |
| --- | --- |
| | The East Coast Vikings |
The East Coast Vikings is a rather informal group of collectors living in and around East Central Scotland. All members share a common interest in the stamps and postal history of the Scandinavian countries. We meet in each other's homes about once a month September to June, when there is usually a subject or invited display, modest quantities of beer (and cider) are drunk, we stop for a break for some supper, and generally chat an awful lot. There is no structure to the group. In fact, the constitution (which is of course unwritten) states that there will be no constitution. There are no office-bearers, no subscriptions, and so on, and it all works very well.
---

Each year, a programme of meetings is drawn up for the coming season, but we have found in recent years that we tend to change it about quite a bit as the season progresses. All members are kept informed of any programme changes.
---
Members;
David Crosthwaite, Mike Faulds, John Law, David Manners, Bob Murray, Keith Robinson, Frank Soutar, and Irene Catto.
New members are welcome. Please get in touch for information.
---

There are also similar groups of Vikings based around Glasgow and Aberdeen. Once a year there is an all-Scotland meeting, usually in Perth in September.
---

Interested in Vikings on Stamps ? If so, there is a modest web page on the subject at this link.
---

Last updated Wednesday 5 August 2009.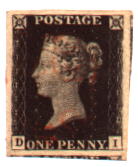 Click on the Penny Black to go back to Robert Murray's Home Page. | Click here to go to our site contents page.