Robert Murray Stamp Shop, Edinburgh

STAMP AUCTIONS


We are pleased to have been entrusted with the sale of the


Perfins Collection


formed by the late Terry Wood, of Edinburgh
Monday 22 November 2021
Catalogue here





We knew Terry Wood well as a customer both in our shop and at our auctions, and it was clear how keen he was on his collections. His quest for more perfins was definitely helped by his outgoing nature - he was always happy to talk to other collectors and must have picked up many contacts who would look out for stamps for him amongst collections they had bought. He happily shared his enthusiasm.

Terry was also well known in The Perfin Society, where I understand he was very active in providing new information for the society's researches and publications, and in correspondence with other members. Some of that society's members will therefore have some idea of the content of this collection before the catalogue is published !

The entire collection is being offered in our general Stamps and Collectables Auction which will be run as a live online auction. The sale is on Monday 22nd November. Viewing will be available in our shop in the week before the auction, as well as every lot being illustrated in the online listings. (Although it is an online auction, bids can also be made by post or by email, or left with us in writing or by telephone.)

The U.K. perfin collection is offered in sections letter-by-letter, and foreign perfins by country or groups of countries. Some special areas such as UK Seahorses and other commemoratives will be sold as separate lots. And of course there are also sections of security overprints and allied material.

If you would like further information, please just send us an email. We also produce a printed catalogue (to UK addresses), so your name and address please if you'd like that.

---
Last updated Monday 15 November 2021.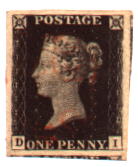 Click on the Penny Black to go back to the beginning (home page). | Click here to go to our site contents page
.
Robert Murray Stamp Shop
5 & 6 Inverleith Gardens
Edinburgh
Scotland EH3 5PU
Tel. 0131 552 1220 or 0131 478 7021
Homepage; www.stamp-shop.com
Email;

[email protected]

How to Order
Retail Mail Orders are accepted by post, telephone, email, or fax. We accept payments by cash, cheque, Visa/MasterCard, Switch/Delta, and some foreign currencies.
Basically, we charge [the advertised price of the goods] plus [the actual price of postage] plus [£1 per order handling charge].
Full details can be seen at our How to Order page.
Our Shop
is not currently open at regular hours, but can be visited by appointment.
We carry very wide stocks of the whole world - much, much more than is listed on our website.

Stamps for Dummies !