Faroe Islands Stamps

Føroyar Frimærker

Useful and interesting articles and internet resources.
provided as a service by
Robert Murray Stamp Shop, Edinburgh
Emphasis here is on stamp-related sites, but others are included that may be of interest. If a website is available in different languages, we have provided a link to the English version.
While done in good faith, we cannot be held responsible for the availability or content of any of the pages to which links are given here. We do not claim any rights over any of the sources. Please remember that it is possible that third-party websites might change - reports of dead links are welcome. All sites have been looked at by ourselves. Many other sites have not been listed, maybe because their information largely only repeated what is available elsewhere, or perhaps if there were problems with connections.
LINKS - in no particular order;
Postverk Føroya - their website. Much useful background information, and the source from which to purchase recent issues of the Faroes.
The Faroe Islands Study Circle. If you are at all serious about collecting Faroese stamps, we cannot recommend strongly enough that you should become a member. Their website is useful anyway, whether you wish to join or not.
Scandinavia Philatelic Society. See the comments for the F.I.S.C. - they apply here also, but for the whole Scandinavian area.
Robert Murray Stamp Shop's price list of Faroe Islands stamps. A straightforward listing from 1975 onwards, of mint, used, and first day covers. Year packs, maxi cards, booklets, and odd stamps, can also be supplied. Faroes items also sometimes appear in the regular stamp auctions.
John Firth's Faroe Islands information page. Only slightly philatelic, this is a personal page, with small sections on geography, geology, history, birds, and sea life.
The Official Faroe Islands Tourist Board Homepage. Attractive site, with lots of information. Many a visitor to the islands has had their original interest inspired by the stamps. This site can point you in the right direction for transport, accommodation, events, and much more.
Atlantic Airways can take you there from Copenhagen, Iceland, Aberdeen, Oslo, Stavanger, London, or Billund. Website gives routes, timetables, and fares, plus booking information.
The Faroe Stamp Site is mainly a presentation of one collector's (Jeff) own collection.
De Ja Scan - described as "recently posted usenet scandinavian stamp articles" there is an awful lot of dross here, but there is interesting and useful content also, if you are willing to search for it.
Tjatsi is a site on the theme of the Folklore/Mythology issues with some of the background to the various stories. Very attractively produced by the Faroese Post Office.
The Faroese Language - an article with some historical notes and background to the language.
The CIA World Factbook - Faroes page. Always an interesting source of information, here you can probably get any facts and figures you need.
Political Resources. For a small group of islands, you probably didn't dream that they have so much politics !
The Faroese Parliament's official website.
Føroya Landsbókasavn - The National Library of the Faroe Islands. This must surely be a first port of call for any serious research. There is information about the various collections, but no internet access to the catalogues. You can even send a question to one of their librarians.
The Faroese Portal. An internet service provider based in the Faroes, their home page (as well as having daily news, weather reports, etc.) is a good point to start an evening of Faroese web surfing, with all sorts of connections from here, but you need at least some grip of the language. This is real life, but in Faroese !

We happily acknowledge the permission granted by Postverk Føroya to allow the use of their images on this web page. Their website is listed above.
Last updated Wednesday 24 July 2002. (Due for revision in 2014 ?!)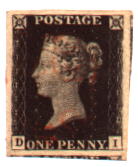 Click on the Penny Black to go the Robert Murray Stamp Shop home page. |
Click here to go to our site contents page. |
Send us an E-mail