Robert Murray Stamp Shop, Edinburgh
Established 1977
Members SPTA, PTS
Scotland's Best-Stocked and Most Popular Stamp Shop



COINS, MEDALS, and BANKNOTES
Although principally stamp dealers, we are also prominent dealers in coins, medals and banknotes. A varied general stock is held at our shop, and we are always interested in buying new material. We do not specialise in any particular area, and many collectors (and dealers) look in on us regularly to see what is new.
Coins; we keep a range of British and Foreign, from cheap items at just a few pence up to scarcer specimens. Stock is organised by country or area,
and we normally have several thousand individually priced coins, from about £1 upwards. We also have thousands more in mixed bags and "pick your own" boxes, as well as various sets.
Gold Coins; we often have gold coins available for sale, but customers should contact us before visiting. We operate on small margins and usually have quite a fast turnover.
Banknotes; again a wide general world stock is maintained, always including a selection of the notes of the Scottish banks. See separate page.
Medals; often our weakest area of stock, we often seem to sell out very soon after stocking up ! We more often have these for sale through our auctions, where we sometimes have quite important singles or groups.
Numismatic Covers; these fit into our philatelic stocks, and we almost always have some available. See a price list of some at this link.
Albums, Catalogues. Books and Supplies; we keep some of the popular coin albums and pages, Hartberger cards, plus plastic pockets, coin trays, coin cases, and similar items as standard stock. Some books and catalogues are stocked when they are published, others can easily be ordered as required.
Buying; we are always happy to be shown collections, accumulations, or single items with a view to purchase. We also operate popular regular
Auctions in Edinburgh. We hold a public stamps and collectables auction in Edinburgh about every other month, and these sales usually have separate sections of banknotes, medals, coins, plus postcards, cigarette cards, and other catagories. From time to time we hold specific specialised auctions of banknotes or coins. Click here for more information about auctions. Some indication of buying prices for British coins here.
If you are planning to bring in any material for us to see with a view to sale, auction, or valuation, please contact us first to arrange a suitable time for an appointment. (You may be asked to provide identification.)

Charities; many charities collect quantities of coins (UK and Foreign, current and obsolete) which they then sell to us, and find that this can be a very lucrative source of funds. Some do this at the same time as collecting stamps and postcards.

Gold Coins; we are happy to buy odd gold coins singly or as part of a collection. However, should a customer have a valuable holding of gold coins (i.e. at least about two or three thousand pounds) we offer a brokerage service where we inspect and identify a customer's coins, and find a good buyer, normally very quickly, and obtaining as high a market value as you are likely to obtain anywhere. For this we simply charge a commission. The rate of commission is normally between 3% and 8% (+ v.a.t.), depending on the size and difficulty of the lot. We would always advise our fee before proceeding, and for very large sales our commission could be lower.

---
Page about two pence coins || Page about one pound coins || Page about silver threepenny coins || Page about fifty pence pieces || Page about one pound coin values || Page about two pound coins ||

---
Robert Murray Stamp Shop
5 & 6 Inverleith Gardens
Edinburgh EH3 5PU
Tel 0131 552 1220
Tel 0131 478 7021 Send us
an email
---
Last updated Tuesday 23 January 2018. Copyright Robert Murray 2012-18.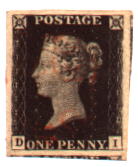 Click the Penny Black to go back to our home page. | Click here to go to our site contents page.