British Philatelic Bureau, Edinburgh.
What was in earlier times called "The British Philatelic Bureau", Royal Mail's mail order section which deals with customers around the world, supplying them (collectors and dealers) with the full range of philatelic products - stamps, first day covers, stamp cards, presentation packs, and so on - was for many years situated just a few hundred yards from our shop (it has now moved to the west side of Edinburgh). Unfortunately, if you are visiting, there is little you can do at Tallents House - Royal Mail Stamps' offices - there is not a sales counter or display area for members of the public.

Royal Mail Stamps and Philately must be one of the busiest, and most efficient, post office philatelic services in the world, but just like so many others, their increasingly costly and "imaginative" issuing programme has lost them many customers in recent years.
We used to operate a "British Philatelic Bureau"/"Philatelic Counter" in our shop (full details can be seen by clicking here) but stopped it at the end of 2009 (see article).
---

Last updated Saturday 31 December 2011.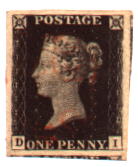 Click on the Penny Black to return to our Home Page. | Click here to go to our site contents page. | Email us.